Oscillating Blade

CNC CONTOUR CUTTER
In the early 1990's, Wintech patented the Oscillating Blade process for cutting flexible foam. These machines feature a thin sharp blade pulled backwards and forwards at high speeds. The foam is sliced without removing any material, making for powerful yet dust-free cutting.
ADVANTAGES
High Speed Oscillation
Powerful motors stroke the blade at an incredibly high speed. This results in a superior surface finish, where the blade cleanly slices — not vibrates — the foam.
Unlimited Blade Twist
The blade is held by a patented mechanism that provides 360˚ rotation. Easily steer the teeth of the blade through tightly nested complex contours, without having to stop production to untwist blades.
Dust-Free Cutting
Foam is cleanly sliced, not abrasively cut, so there is no dust generated. This helps keep a clean, safe workplace and also provides a clean dust-free surface to the finished product.
Quick-Change Blades
Disposable blades ensure the sharpest cut in every job, keeping productivity and quality high. A single person can remove and install a new blade in under 5 minutes.
KEY FEATURES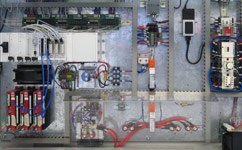 Fully Automated Cutting
Every Wintech machine is a fully automated CNC cutter. This means that they are computer-driven to ensure the accuracy and repeatability of every contour cut. It also means Wintech machines do not have the operational dangers, manual errors or slow turn overs of manual cutters. The operator simply opens the cutting drawings on the computer and tells the machine to start cutting.
One person can easily load and operate the machine. Wintech machines can also run a subsequent number of jobs automatically. This could allow unattended operation of the machine for long periods of time. The machine has the option to shut off automatically at the end of the job/queue.
Flexible Floorplans and Operation
Wintech machines are operated via the control cabinet. This is a small freestanding unit that houses the computer to design and store all the drawings. It also provides an intuitive interface to control every aspect of the machine. The operator runs the machine through its software, using the touch screen, keyboard or mouse. This allows the operator to keep a safe distance from the machine and be positioned in a convenient location in the factory.
The control cabinet also comes with a sealed, fully functional 18-key handset to allow for remote control. There are no cables to the remote. This gives the operator even more physical freedom. Quick positioning or manual cutting are possible with this remote handset.
Powerful User-Friendly Software
Wintech machines use the Windows operating system. Our proprietary Profiler software is designed in-house to get the most out of your machine. A rich graphical environment makes the machine simple to use but packed with powerful features.
Our machines are pre-loaded with a wide selection of standard cuts (geometric shapes, letters, numerals, etc), with customisable presets. We have powerful importing capabilities from other digital drawing software and a sophisticated native drawing interface. For first-time CNC users, we have an optional digitiser device to trace paper drawings or cardboard templates.
WHY CHOOSE WINTECH?
We pride ourselves on the quality of our products and services. Our machines are carefully crafted by our team of engineers, welders, machinists, fitters, and electricians. Learn our story.
Quality Built
Manufactured, assembled and tested in our workshops
Reliable
Our machines are still running after 30 years
Compliant
Tested for CE and C-Tick compliance
Small Footprint
Ideal for companies with limited factory space
Safe
Built-in features assure a safe workplace
CHOOSE YOUR MODEL