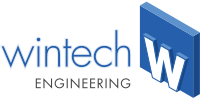 Our Factory
Wintech machines are built start to finish in our own factory.
Wintech Engineering's factory is located in the industrial city of Yangebup, Western Australia. The city's name is derived from the Aboriginal word, Yanget, for the species of native flax or bulrush found around the nearby lake. Yangebup is located just 15km south of the capital city of Perth. It's also conveniently located very close to the port of Fremantle where most of our machines are shipped in ISO standard sea containers.
All Wintech machines are built from beginning to end in this factory. We start with raw steel sections that are carefully welded into the frame of a machine. Then, our electrical technicians build the brain of the machine; the control cabinet. All the wiring and electronic fittings are done from scratch. Even the software that controls the machine is Wintech's proprietary software, Profiler. Lastly, the machine's cutting mechanisms — hotwire, abrasive wires, and oscillating blades — are manufactured in-house.
It takes roughly 7 weeks for our highly skilled team to make, test and package a machine. In recent years, Wintech has been building common sizes for stock, thus reducing lead-times.