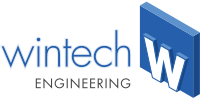 Complete Care,
End to End
From maintenance to upgrades, we have you covered no matter what you need.

MACHINE SERVICES
Factory Testing & Repairs
Sometimes problems come up. Parts wear out over time or events beyond our control can cause downtime. Wintech is there for you when you need it most. When major flooding ruined a customer's machine, Wintech reconditioned and restored it to full working order. Due to the modular nature of our machines it is possible to send back components for testing, service, or repair without shipping the entire machine.
Obsolescence Management
A lot of progress has been made in the technology that powers our machines since we started manufacturing in 1985. Our newest machines are running on modern Windows 10 PCs, whereas our original machines ran on Apple II computers, and some still do! Because we have the in depth knowledge of every aspect of our machines' hardware and software, we are able to provide upgrade pathways that can reuse much of an existing machine, avoiding the need to purchase an entirely new one. With Wintech's obsolescence management program you can rest assured that a Wintech contour cutting machine will be working hard for you for years to come.
Bureau Services
From time to time, a company receives a job file that cannot be opened or which doesn't provide the expected cut-path. Wintech's engineers are able to convert many files into a format that can be read by Wintech Profiler software. They can also study a client's cut-path to investigate programming issues.
CUSTOM SERVICES
Wintech has developed a wealth of knowledge and expertise around foam cutting machinery. We have expanded our operations to pursue related areas focused on individualised bespoke solutions. Visit our sister companies below for additional services.
Automation and Integration
Autronics is a bespoke engineering company specialising in robotics and automation. With projects large and small covering a variety of industries and applications, the team at Autronics is capable of designing and engineering custom solutions to any problem.
Custom Foam Cutting
Foam Shapers was established as a business in 2014 to provide bespoke work for artists and architects. Utilising a variety of Wintech machines, plus a 5-axis robotic routing arm courtesy of Autronics, it is possible to cut virtually any type of foam into complex 2D and 3D shapes. Backed by Wintech's 30 years in the foam industry, Foam Shapers is able to handle jobs of any size and especially enjoys unique and complicated cuts that are beyond the scope of other machines.